Weekend Update" co-host Michael Che is just the latest person to take a swipe at Israel over its vaccination priorities. Still, his comment sparked a complaint from the Anti-Defamation League. Israel is reporting that they've vaccinated half of its population," Che said on "Saturday Night Live" last weekend. "And I'm gonna guess it's the Jewish half."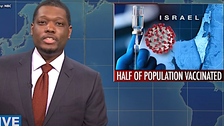 The statement "crossed the line," ADL CEO Jonathan Greenblatt tweeted:
Greenblatt didn't explain what the factual inaccuracies were.
The Genesis 123 Foundation, a U.S.-based Christian organization, also took issue with Che's joke.
Critics say that as an occupying power, Israel is required by international law to give Palestinians what it provides to its citizens. Israeli officials claim that Palestinians assumed responsibility for their health services when they signed the Oslo Accords in the 1990s. (Israel, meanwhile, is funding vaccines to Syria as part of a prisoner swap, The New York Times reported.) The Palestinian Authority launched a vaccination program early this month for frontline medical workers using the 5,000 doses Israel had provided. The Washington Post reported that Israel also agreed last week to inoculate some 100,000 Palestinians who regularly cross into Israel to work.