President Joe Biden said Wednesday that he expects the Food and Drug Administration to give its final approval to the slate of COVID-19 vaccines being used to fight the pandemic, a step he hopes will help combat lingering skepticism among Americans who have not been inoculated yet against the disease.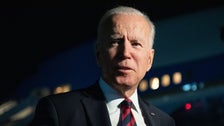 The president commented at a CNN town hall event in Ohio, adding that he has not interfered with any of the science surrounding the coronavirus vaccines. Health experts have said full approval by the FDA could help ease, but not erase, vaccine hesitancy as the injections are currently being administered under the agency's emergency use authorization provisions. They're not promising me any specific date, but my expectation, talking to the group of scientists we put together… plus others in the field, is that sometimes.
Maybe at the beginning of the school year, at the end of August, beginning September, October, they'll get final approval," Biden said. Biden also said he was optimistic that children younger than 12 would be eligible to get vaccination shots "soon. Children 5, 6, 7, 8 all have different makeups. They're developing," Biden said, noting that scientists were studying the vaccines' effects in different age groups. "They're trying to figure out whether or not there's a vaccination that affects one child that is at such-and-such an age and not another child. That's underway.