President Joe Biden announced Thursday that all federal employees and contractors must be vaccinated against COVID-19 or undergo weekly testing and abide by other safety restrictions, reflecting the spread of the highly transmissible delta variant of the virus that threatens to prolong the pandemic.
"Masking is one defense against the spread of COVID-19, but make no mistake: Vaccines are the best defense against you getting severely ill from COVID-19," Biden said at a press conference announcing the policy.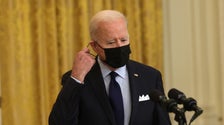 The president said earlier this week that a vaccine mandate for government workers was under consideration following months of messaging from the nation's leading public health officials that vaccines are the key to ending a pandemic that has upended life for more than a year and a half.
"Breakthrough cases remain rare, and almost all are mild cases," Biden said of vaccinated people who contract the virus. "Virtually all hospitalizations and deaths are among the unvaccinated."
Unvaccinated federal employees will have to comply with several safety rules if they want to return to work.
"Anyone who does not attest to being fully vaccinated will be required to wear a mask on the job no matter their geographic location, physically distance from all other employees and visitors, comply with a weekly or twice-weekly screening testing requirement, and be subject to restrictions on official travel," the White House said in a statement.