According to a new study, coronavirus antibodies last for at least six months after infection for most people who have had the virus. The survey from UK Biobank, the UK's central biomedical database and research resource looked at how long antibodies persisted in those infected.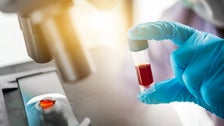 According to the research, 99% of participants who had tested positive for the previous infection retained coronavirus antibodies for three months after being infected, while 88% did so for the entire six months of the study.
Researchers say the results of the study from UK Biobank indicate antibodies produced following natural infection may "provide a degree of protection for most people against getting infected again for at least six months."
Naomi Allen, UK Biobank's chief scientist, said: "This critical study has revealed that the vast majority of people retain detectable antibodies for at least six months after infection with the coronavirus.
"Although we cannot be certain how this relates to immunity, the results suggest that people may be protected against subsequent infection for at least six months following natural infection. More prolonged follow-up will allow us to determine how long such protection is likely to last."
For the six months from the end of May 2020 to the beginning of December 2020, UK Biobank collected monthly blood samples and data on potential symptoms from 20,200 UK Biobank participants and their adult children and grandchildren. The study also found the proportion of the population with antibodies to SARS-CoV-2 (which indicates past infection) rose from 6.6% at the start of the study period to 8.8% by the end of it.