ATLANTA (AP) — The coronavirus vaccines have been rolled out unevenly across the U.S… Still, four states in the Deep South have had particularly dismal inoculation rates that have alarmed health experts and frustrated residents. In Alabama, Georgia, Mississippi, and South Carolina, less than 2% of the population had received its first dose of a vaccine at the start of the week.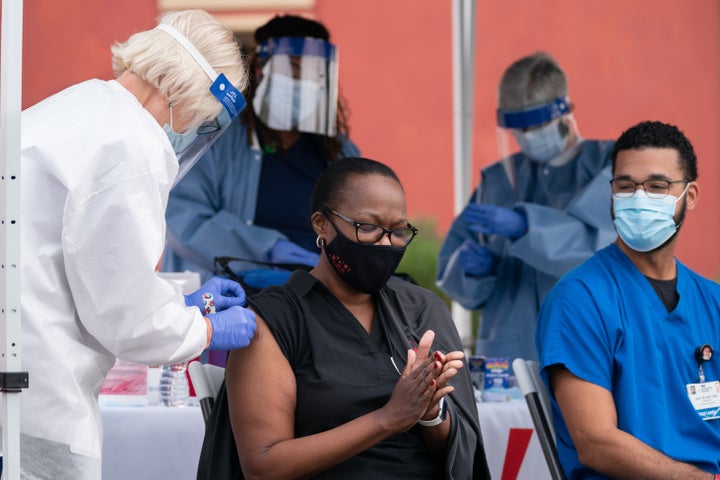 As in other parts of the country, states in the South face several challenges: limited vaccine supplies, health care workers who refuse to get inoculated, and bureaucratic systems that are not equipped to schedule the significant number of appointments being sought. But other states have still managed — at their best — to get the vaccines into the arms of more than 5% of their populations. Though it's unclear why the Deep South is falling behind, public health researchers note that it has typically lagged in funding public health and addressing disparities in care for its significant rural population.
"When you combine a large percentage of rural residents who tend to be the hard-to-reach populations and have lower numbers of providers with trying to build a vaccine infrastructure on the fly, that's just a recipe for a not-so-great response," said Sarah McCool, a professor in public health at Georgia State University.
In Georgia, the state's rural health system has been decimated in recent years, with nine hospital closures since 2008, including two last year. Local health departments have become the primary vaccine providers in some locations, as officials add sites where doses can be administered. If we're the only game in town, this process is going to take a long time," Lawton Davis, director of a significant public health district that includes Savannah, said at a news conference on Monday.
Alabama and Mississippi have also been hit hard by rural hospital closures. Seven hospitals have shut down in Alabama since 2009 and six in Mississippi since 2005, according to researchers at the University of North Carolina's Sheps Center. Alabama, Georgia, and Mississippi ranked in the bottom five of U.S. states in their access to health care, according to a 2020 report from a not-for-profit foundation connected to insurance giant UnitedHealth.