WASHINGTON (A.P.) — U.S. scientists would gain vastly expanded capabilities to identify potentially deadlier mutations of the coronavirus under COVID-19 relief legislation advancing in Congress. The U.S. now maps only the genetic makeup of a minuscule fraction of positive virus samples, a situation some experts liken to flying blind. It means the actual domestic spread of problematic mutations first identified in the United Kingdom and South Africa remains a matter of guesswork.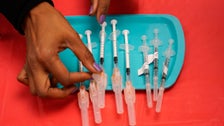 Such ignorance could prove costly. One worry is that more transmissible forms such as the U.K. variant could move faster than the nation's ability to get the vaccine into Americans' arms. You've got a small number of academic and public health labs that have beey doing the genomic surveillance," said David O'Connor, an AIDS researcher at the University of Wisconsin. "But there is no national coherence to the strategy."
The Centers for Disease Control and Prevention is trying to shepherd those efforts, aligning with the government's advanced detection work, but the COVID-19 legislation would take the hunt to another level.
Last week, a bill cleared for floor debate by the House Energy and Commerce Committee would provide $1.75 billion for genomic sequencing. It calls for the CDC to organize a national network to use the technology to track the spread of mutations and guide public health countermeasures. In the Senate, Wisconsin Democrat Tammy Baldwin has introduced legislation that would provide $2 billion. Baldwin says the U.S. should be using gene-mapping technology to analyze at least 15% of positive virus samples. That might not sound like much, but the current rate is believed to be 0.3% to 0.5%. Analyzing 15% of positive models would expand surveillance by at least 30 times.