If you feel like people are getting more comfortable with air travel at this stage of the COVID-19 pandemic, your hunch is correct. Since March 11, the Transportation Security Administration has screened more than 1 million passengers every day. On May 2, that number exceeded 1.6 million for the first time since March 12, 2020.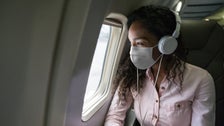 But as people ease back into flying, there are still lingering questions about the risk involved in spending time on an airplane, especially now that airlines have ended their middle seat blocking policies. There's a desire to assert control for the most nervous fliers by choosing to sit in the "safest" part of the plane from a COVID-19 transmission perspective. But is there such thing? HuffPost asked health and travel experts to break down the safety of flying right now and how to choose a plane seat with minimal risk.
The risk of air travel is considered relatively low.