It's January 2020, and "coronavirus" is not yet even a meme. I'm just out of a year-long relationship, and come February, I'm doing what I do best: going on so-so dates and occasionally getting oral sex from random guys from Tinder. I'm back on the scene, ready to return to the familiar groove of online dating.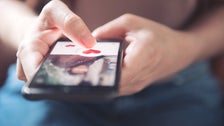 But soon, it's March. Life is put on pause. Panic sets in. A deadly virus has rendered us housebound and less severe, but still worth noting; my dating life has been majorly disrupted. We can't see our closest friends or family, so a date with a stranger is completely out of the question. 
The loneliness crept in fast. Normally I could fill the void by seeing friends, going out, or even connecting with a hookup from my past, but not now. For a few short weeks, I consider getting back with my ex. I power through that, knowing it would be a decision borne out of fear and scarcity-thinking more than out of genuine regret we broke up.
So, I stay single and on the apps.
I start thinking maybe, just maybe, this might mean more available men are on there. Maybe, just maybe, they might even want to be in a relationship. If anything can get a man in Los Angeles to finally be emotionally available, surely it must be a global pandemic. Oh, how wrong I was. I was shocked to find that everything was, for the most part, exactly the same as before. But now, with more bad jokes in their bios about having plenty of toilet paper and promising they don't have the coronavirus even though there was no way they could possibly know that.
This was way before tests were widely available.  I swipe left endlessly (that's the "no thank-you" direction) but eventually find some people to swipe right on. When we match, I am shocked to find that most of the initial conversation is still something to the effect of, "Come over." When they're not saying that, they're not saying anything at all. We might exchange our hellos and have some obligatory small talk for a few minutes, but I am almost always left on read, especially if I initiate speaking on the phone or video chatting.