Christmas Day 2016. I have recovered from the liver transplant in May that I needed to stop my primary sclerosing cholangitis, a degenerative liver disease that, without a transplant, can cause cirrhosis and eventually death. Since September of that year, I have faced repeated hospitalizations because of my other health problem, ulcerative colitis, a bowel disease. I'm yellow, breathless, and staggering around in a restaurant with my family, who are all convinced that I'm going to collapse at any moment. Ulcerative colitis has blighted my life for nearly 25 years, and I think it's finally killing me.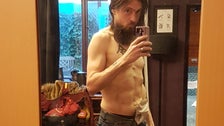 Ulcerative colitis is a chronic condition in which the colon and rectum can become inflamed and painful. Symptoms are typically absent between flare-ups, which was the pattern I had had since I was diagnosed at about age 11. Stressful life events seem to make it worse. The primary symptoms are abdominal pain, diarrhea, and what they call in the trade "urgency.
This means, "I have to get to the toilet right now. It can also cause anemia, and it did, in my case, sometimes severely, leaving me feeling very tired and breathless. Still, it was manageable my whole life, and I had never been hospitalized with it until after my liver transplant. A few months after that, it was the worst it had ever been, and I was in and out of the hospital until the surgery in August 2017, when they offered me a "cure." An ileostomy.