I was on my way to work in New York City at 9 a.m. in November 2019. After I got off my first subway train, I sat down and pulled out my phone to check the news while waiting for the F train to Brooklyn. Just like me, almost everyone was glued to their phone.  Then, Thud. Someone was punching me in the back of my head. Hard. I was mishit that all I could feel was pain, burning, and fear. I heard the person hitting me scream something, but what they said remains a mystery to me, as does any justification for beating me in the first place.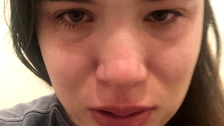 I believe that the assault only lasted for a few minutes, but due to the head trauma I experienced, I am not 100% sure what happened. No one tried to stop him from attacking me, and I was too stunned to fight back. I later learned that a female MTA worker called for police help immediately after she saw me get hit. I only got a chance to look at my assailant when he was running away.  Some people who heard me scream for help assisted me in going up the stairs, where I waited for medical personnel. The police arrived and started to ask questions about what had happened. 
"Did you say anything to him?" an officer asked. I struggled to even come up with a response. It sounded like they were trying to see if I had provoked my assailant. I had not. I had been the victim of a random violent crime. Before I answered, an MTA worker who had witnessed the attack came to my defense. "She was doing absolutely nothing. He came up to her out of nowhere." To my knowledge, my assailant was never arrested for my assault and never identified. I have no idea what motivated him to assault me. It was not to steal anything from me: I had dropped my bag with my wallet and computer in it in front of me after I was punched, so those would have been easy to take.