Israel has become the first nation in the world to provide a third shot of the Pfizer vaccine to people over 60 because of concerns about breakthrough cases of COVID-19 among the fully vaccinated.
The move will make the nation a test case for the effectiveness of a booster shot against the raging delta variant. Israeli President Isaac Herzog, 60,  received his third shot on Friday and urged others to follow his example. The third shot will only be given to those who had their second shot at least five months earlier.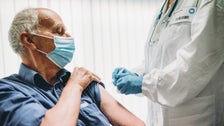 Israel's COVID-19 cases have soared from some 20 daily cases last month to more than 2,000 a day currently, though hospitalizations and deaths have remained relatively low.
Israel has reported some of the most troubling data about the effectiveness of vaccines against the delta variant and over time. The nation has a unique vantage point because it was the first in the world to launch an aggressive vaccination program — in mid-December. Its experiences could well predict what other nations may soon see.
Experts continue to emphasize that vaccinations are the most effective weapon against COVID-19. A British study published last week found that the Pfizer vaccine remained 88% effective against symptomatic cases of the delta variant.