A journalist in England was mistakenly offered the COVID-19 vaccine early after an administrative error listed his height in his medical records as just 6.2 centimeters ― less than 2.5 inches.
Liam Thorp is the 6-foot-2 political editor of the Liverpool Echo. His Lilliputian height listing wrongly deemed him to have a body mass index of 28,000 ― an impossibly overweight score that prioritized him for the coronavirus vaccine.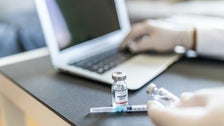 Thorp said he was "shocked" to be offered the coronavirus jab, currently being rolled out to people over age 65 in the United Kingdom. He booked an appointment, being "under the impression that when offered a vaccine you should always accept," but then felt a rising unease about his apparent jumping to the head of the line. According to health staff, his height had been inputted as 6.2 centimeters instead of 6 feet 2 inches ― around 188 centimeters.
"The man's nervous tone cracked into a laugh when I joked about putting on weight and losing a significant amount of height during the lockdown," Thorp recalled. "If I had been less stunned, I would have asked why no one was more concerned that a man of these remarkable dimensions was slithering around south Liverpool."
Calling all HuffPost superfans!
Sign up for membership to become a founding member and help shape HuffPost's next chapter