When COVID-19 shut the world down in March 2020, none of us could envision a post-pandemic era, and we didn't quite know if pre-pandemic features like self-serve buffets would become obsolete. The world is slowly reopening more than a year later; variants be damned (unfortunately, Nevada is now seeing the highest rate of new COVID-19 cases in the United States). Restaurants allow total capacity. People have shed their masks. Cruises are sailing, albeit with restrictions. And as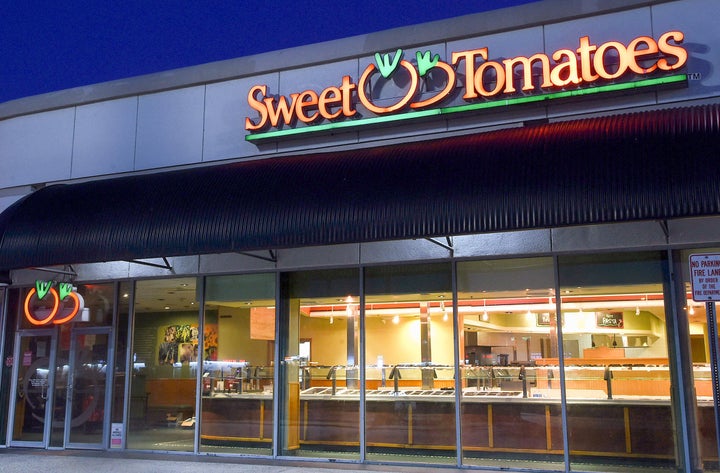 Patton Oswalt predicted to Conan O'Brien, and self-serve buffets have returned to their glory — though they look slightly different. Grand all-you-can-stuff-on-your-plate buffets have always been equated with Las Vegas, and last March, as many as 60 Vegas buffets temporarily closed. A handful reopened the previous summer only to shutter again temporarily. (Station Casinos said it's permanently closing its buffets.) In June 2020, The Buffet at Wynn became the first casino buffet to reopen on the Strip, but it closed again in September. But on July 1, 2021, it joined seven other casino buffets — Bacchanal Buffet at Caesars Palace, Garden Buffet at South Point Hotel Casino and Spa, Wicked Spoon at Cosmopolitan, Circus Buffet at Circus Circus, MGM Grand Buffet, The Buffet at Bellagio, and The Buffet at Excalibur — is reemerging after a long slumber.
I'm excited to open," Jason Duarte, The Buffet at Wynn's executive chef, told HuffPost. He explained the buffet now has a 60-40 self-service ratio (60% self-serve and 40% individual plates). During the pandemic, we changed our entire model to do everything on individual plates. We had the servers bring the food offerings to the guests … I think [individual plates] looks nicer and it gives our guests more options," he said. But now guests will be able to serve themselves everything from Jonah crab claws to five types of sushi to wedge salads to a made-fresh-to-order taco station, and an add-on of "endless pours" of alcohol.