Oklahoma is running out of desperately needed pediatric hospital beds throughout the state amid rising COVID-19 cases, a surge in a separate respiratory severe illness, and nursing shortages.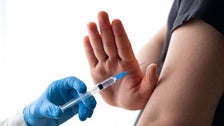 Some children have been sent out of state to other hospitals because of a lack of beds in Oklahoma.
"There have been a few pediatric patients who have needed ICU beds that there were no beds here. Any other couple of ICUs … in the state that could take care of that sick of patients were also full, and we have had to send them out of state," Dr. Cameron Mantor, chief medical officer at Oklahoma Children's Hospital, told local Fox News 25.
The Owasso Pediatrics and Adolescent Medicine clinic issued a statement Wednesday warning that there were no pediatric ICU beds available anywhere in the state — among the hardest-hit in the current coronavirus wave — and that some patients were being sent to Texas. A few state beds became available later in the day, the clinic noted.