A hospital chain in Florida's Broward County, which includes Fort Lauderdale, admitted an astounding 1,600 patients in a single day. At least a third of the patients in the county who were checked into the health care system Wednesday were suffering from COVID-19, The Associated Press reported.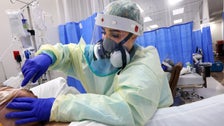 Officials said that patients were in additional beds lined up in cafeterias and a conference center among the six hospitals of the Memorial Healthcare System. And there was no sign that the skyrocketing trend of new cases of the delta variant of the disease was going to fall any time soon. Some 97% of the COVID cases at Memorial are unvaccinated people.
The overwhelming influx is forcing Memorial Healthcare to suspend all elective surgeries.