Pfizer and Moderna are expanding the size of their vaccine trials for children 5 to 11 years old, seeking to better detect sporadic heart issues among those vaccinated.  The primary vaccine makers are increasing the number of children enrolled in their studies at the prompting of the federal Food and Drug Administration, first reported by The New York Times.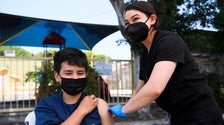 The FDA asked the companies to include 3,000 children — or double the previous number of participants — to be adequately able to detect rare side effects such as myocarditis or pericarditis, inflammations of the heart, according to unnamed sources who spoke to the Times. The side effect is doubtful, showing up in only 12.6 cases per 1 million second doses, according to the U.S. Centers for Disease Control and Prevention (CDC). Last month, the FDA updated its vaccine fact sheets to include the possible increased risk. 
Coronavirus cases are rising across the country as the highly contagious delta variant spreads, with patients and deaths overwhelmingly among unvaccinated people.  The Pfizer-BioNTech vaccine has already been authorized for children 12 and older, and the Moderna vaccine is approved for those 18 and older.  As schools are set to reopen for in-person learning in the fall, the issue of vaccinating students is top of mind for parents, teachers, and school staff.