In the early days of the coronavirus pandemic, many of us had high hopes for the summer: "Maybe by the time the kids are off for summer break, the virus will be under control, and we can still go on vacation." "Maybe the warm weather will drastically slow the spread of COVID-19. If only. Nearly five months into the pandemic, the virus is here to stay. Summer, sadly, isn't a magic bullet. As temperatures rise, COVID-19 cases, deaths, and hospitalizations are also increasing in several states. A vaccine is still hypothetical. Some experts say widespread mask-wearing could slow down infection rates, but the battle over face masks in public has only intensified. It's all very concerning.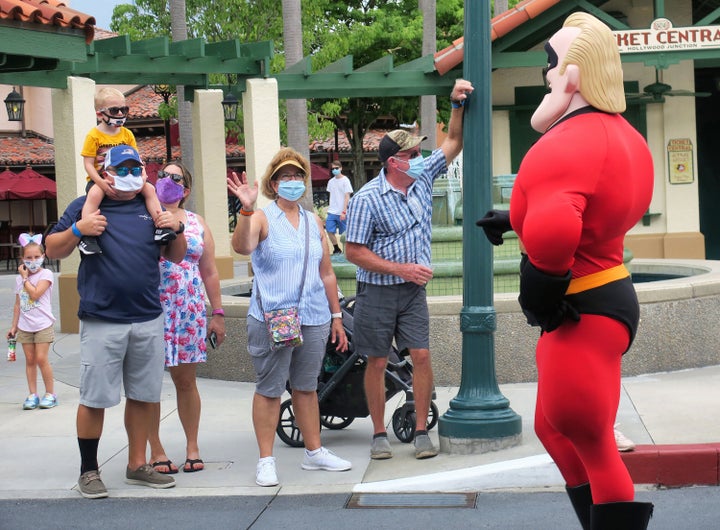 Still, those concerns haven't stopped many Americans from looking for means to escape. Over the weekend, videos posted to social media showed massive crowds gathered in front of the stage at a Chainsmokers concert in the Hamptons in New York. Your timeline and Instagram story section are probably full of people posting pics and videos from their barbecues, vacations, beach days, and pool parties.
The travel industry is ready and waiting; pandemic is damned. "We know you #WannaGetAway, so book today to take advantage of our low fares," Southwest Airlines tweeted earlier this month. Walt Disney World in Florida, a coronavirus hotspot, reopened this month with strict policies in place for visitors (face masks, temperature screenings). Videos on social media show cast members making the rounds in the park, dressed up as Belle and Ariel and other Disney princesses, sans mask. Even in the Florida heat, donning a full Mickey or Mr. Incredible suit seems preferable.