A Texas Republican leader hospitalized earlier this week with COVID-19 has died just days after posting an anti-vaccination message — and previously shared an image touting a "mask burning" event. H. Scott Apley, 45, a member of the State Republican
Executive Committee and Dickinson City Council died Wednesday, the Galveston County Republican Party announced in a Facebook post with a "weighty heart."  The post didn't mention the cause of death. But Apley was admitted to a local hospital last Sunday with "pneumonia-like symptoms and tested positive for COVID" and was placed on a ventilator, according to a GoFundMe page set up for his family.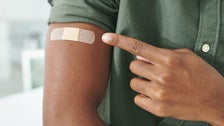 Apley's widow, Melissa, also tested positive for the coronavirus but has not been hospitalized, according to the GoFundMe page. They recently had a baby son, Reid. A tragedy," the GOP Facebook post read. " Please pray for Melissa and Reid and their family. God remains in control, although this is yet another tough one to swallow.
The Texas Republican Party issued a statement saying members were "incredibly saddened" to learn of Apley's death. A week ago, Apley had reposted a mocking commentary about the changing COVID-19 vaccination situation, noting that in six months, the nation had gone from "the vax ending the pandemic to … you can still die of COVID if you get vaxxed … to the unvaxxed are killing the vaxxed."