We may not know the results of the 2020 election for several days or even weeks. But whether Donald Trump or Joe Biden ultimately wins the presidency, you may not be happy with the direction our country is headed. No matter who wins the election, I fear it will take longer than our lifetime to bring America back to pre-2016 election attitudes," said Julie Darling, a recent ex-pat. Darling, her partner, and their three dogs recently left San Diego, California, to become residents of Mexico. It started when the couple, both in their 60s, rented a home on Rosarito Beach last October. They loved it so much that they decided to buy it in February and live there full time.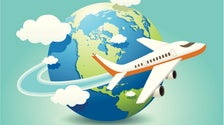 "We could see the America I grew up in devolving. The anger and hate were ramping up," she said. "We wanted out."
Homebrewer and educator Ken Mukai is one of them. Last year, he and his wife moved from Los Angeles to Niyodogawa-Cho, Japan, to open a brewery. It was an offer they couldn't refuse: The cost of living in the U.S. continued rising to ridiculous levels, he said, especially medical and dental insurance. As a teacher, Mukai said he was sick of wasting time and energy on things other than actual teaching, such as dealing with pushy parents, useless staff meetings, pointless mandates from his district and constantly fighting for better conditions.
The local government in Niyodogawa-who offered to subsidize the construction of the new brewery building, and the rent on their home is much lower than in LA. (initially, it was about $300 per month). Medical and dental coverage are highly subsidized in Japan as well, further reducing the cost of living.