IMPS means Immediate Payment Service in the Indian banking system terminology. It is a money transfer mechanism provided by the country's top bank, Reserve Bank of India and National Payments Corporation of India (NPCI). It was launched in 2010 by NPCI with the help of a pilot project with 4 major banks, and today IMPS includes more than 150 banks.
Immediate Payment Service (IMPS) is a real-time electronic fund transfer method, through which money is instantly credited to the account of the recipient / beneficiary. IMPS transfer is done on a 24/7 basis all 365 days in a year. This can also be done on Sundays and other bank holidays. Through IMPS, interbank transfer can be initiated through multiple channels like mobile banking, internet banking, SMS, ATM etc. IMPS services are managed by the National Payments Corporation of India (NPCI) and come under the purview of the Reserve Bank of India (RBI).
For IMPS transfer through net banking, the remitter has to register the beneficiary by providing all the details such as bank account number, IFSC code, bank name and bank branch, etc. The Indian Financial System Code (IFSC) is an 11-digit alphanumeric code assigned by RBI to all bank branches to monitor and streamline the fund transfer process through IMPS. Every bank has a different transaction charge for IMPS transfer and this charge depends only on the amount that is sent.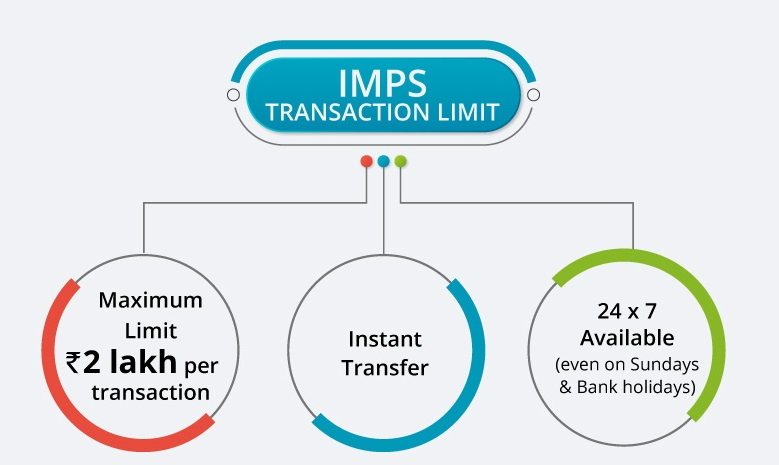 The key feature of IMPS is that it is available for use at all times. It transfers funds instantly and is a good banking platform in case of emergency. The transaction charge of this platform is also very low and the transfer limit is also quite high, about 2 lakh rupees per day. Apart from this, IMPS is also available on mobile which makes it more convenient.
IMPS Transfer Limit
Advantages of IMPS
Transfer mode
Generally, the maximum limit per transaction for a transaction is Rs 2 lakh.For MMID-based transfers, this limit is Rs. 5000 per day
Instant money transfer
Mobile banking can be used by phone number and MMID.Through Account Number and IFSC CodeThrough ATM
This facility is available on a 24/7 basis over 365 days.
The service can be used on holidays
Safe
Can be used on multiple channels
Bank list of IMPS Charges
Different banks charge separately for IMPS transactions. Below are some of the most popular bank IMPS charges.
| | | |
| --- | --- | --- |
| No. | Bank | IMPS Transactions Charges |
| 1 | ICICI Bank | Rs.5 + GST |
| 2 | Citi Bank | Nil |
| 3 | SBI | Rs.1 + GST |
| 4 | Yes Bank | Rs.5 |
| 5. | HDFC Bank | Rs.5 |
How to register for IMPS? (How to Register for IMPS?)
You must first register for the bank's mobile banking service.
You will also have to get Mobile Money Identifier (MMID) and MPIN from the bank. Even the recipient or beneficiary must have it.
You can download the application for mobile banking from your bank or if you have SMS IMPS facility in your bank then use the SMS facility in your mobile.
How to send money with IMPS facility on your phone? (How to Send Money with IMPS Facility on Your Phone?)
First of all, you have to login to your bank application.
Next, choose the IMPS option for the IMPS menu. SMS facility can be used in your phone.
You have to prepare the beneficiary's mobile number and MMID.
You have to fill the beneficiary's mobile number, amount, beneficiary MMID, as well as your MPIN to transfer the funds.
A verification text will be sent to you via SMS for debit to your account and credit to the beneficiary's account.
Note the transaction reference number for future reference
Features of IMPS
Money transfer through IMPS is safe like NEFT and RTGS.
This feature is easy to use on any smart device or phone with an internet connection.
It is one of the fastest ways to transfer money between bank accounts.
Through this money can be sent to anyone through mobile number.
The recipient gets the deposit immediately without any delay.
People do not need to share their bank details specifically for transfer of funds in this platform.
This service is available 24 * 7 throughout the year.
There is no charge from any party to avail this service.
On completion of the transaction, notifications are sent to both the debit and credit parties.
Currently the transfer limit for IMPS is only Rs 50,000.
You must have an ATM or debit card of your bank.
You must be registered with your bank for SMS alerts.
If you have a basic handset, you can use this service only through SMS and texting.
Customers with cell phones who have GPRS (General Packet Radio Service) enabled by the service provider as well as JAVA can use it online for higher security and amount.
Some banks have their own applications for smart phones
How to receive money through IMPS on your phone? (How to Receive Money Through IMPS on Your Phone?)
You must provide your cell phone number and MMID for the sender.
The sender will work for sending money using your mobile number and MMID, as described in the previous section.
A verification text will be sent to you via SMS for credit to your account and debit to the sender's account.
Note the transaction reference number for future reference.