Oak Valley Hospital District is offering its employees a $300 bonus to get vaccinated. The independent hospital in Oakdale, California, decided to implement a financial incentive after only 40% of its 600 employees initially turned up to get the shot. Since offering money to those who get the second dose of the vaccine, the hospital has reported a noticeable increase in the number of workers getting vaccinated.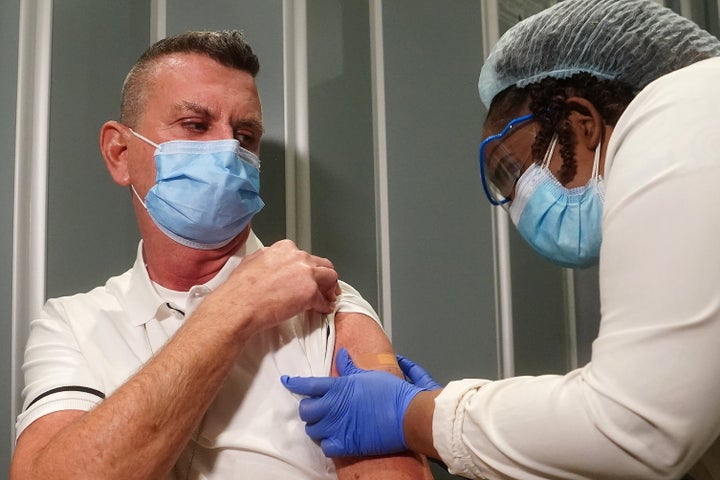 The approval of COVID-19 vaccines may represent a massive stride in the battle against a virus that has killed more than 437,000 people in the U.S., but to work effectively to bring the pandemic under control means getting a large proportion of the population to take it. The logistics of conducting widespread vaccinations are staggering. To make the challenge greater, many people are hesitant to take the vaccines — including the health care workers first in line to get them.
Much of the brunt of the coronavirus crisis has fallen on the shoulders of already thinly stretched and overworked health care workers. According to an analysis from Kaiser Health News and The Guardian, nearly 3,000 health care workers died of COVID-19 in the U.S. last year, with 65% of those workers being people of color.
Many more health care workers have been sickened by the disease or been forced to quarantine due to virus exposure, taking them offline and exacerbating the existing shortages of available health care workers. This crisis within a crisis has hampered America's ability to deal with the pandemic effectively.
Since health care workers are a uniquely exposed and vulnerable population who have experienced firsthand the devastation wrought by COVID-19, it was widely hoped that once a safe vaccine was made available, they would quickly accept inoculation en masse. Unfortunately, that doesn't seem to be the case right now.
Many health care systems have seen widespread reluctance among workers to get vaccinated. According to Ohio Gov. Mike DeWine, 60% of his state's nursing home workers declined the vaccine. According to an AP report, in some health care settings, as many as 80% of workers have turned down the vaccine. Although some vaccine hesitancy among health care workers was expected, the large numbers unsettle many experts in the field.